So is everyone still hungover from your New Year party? Somehow I am thinking that missing the various countdown parties that were happening around town wasn't a big loss.
I was in Athens during this period, and the team that I flew with decided to have a nice dinner before going to the town square to do the countdown. Frankly, I think the food is really not tasty in Greece. One would have to wash the food down with lots of wine or Ouzo(it smells and tastes like Dettol, really)
.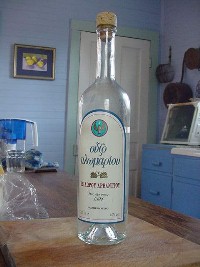 The company I had that night was good though, even the cockpit crew joined us. It was nice of them to
come cuz then we had interesting conversations and an
ecdotes from the 3 of them. A Mexican, a Belgian and a Singaporean walks into a diner...
We finished dinner early and decided to pop into another, more traditional, Greek restaurant for more drinks and to warm up from the chilly night. Now, this one had a live band downstairs and was packed. We were ushered upstairs as we didn't have dinner there and the surly old guy wouldn't serve us hot beverages until we ordered some wine. After being ripped off for 40Euro bottles of wine, we moved on to the town square.
Now an interesting fact.
Greeks celebrate X'mas till the 6th Jan!
This was pointed out by the Mexican captain while we were having our New Year's Eve dinner. So you still see the town dressed up in X'mas trees and all that jazz, very festive. Ironically, the countdown to 2006 was a muted affair. No large celebrations, no countdown clock, no open air concert. Total number of fireworks? One. It lasted for, like, 3 seconds and we were at the wrong location to have a good view of it.
That didn't keep us from having our own countdown celebration. We popped the champagne, took many photos and wished each other well. Funny that we seem to be the only group amongst the crowd doing it though. Perhaps they have another day to celebrate the New Year, like in February? I dunno these kinds of things...
All things considered, the trip was one of my more memorable ones as I had good company to bring in 2006 with.
How about you??