There I was on a Saturday in Melbourne, Australia. A country that plays football with their hands, and calls the beautiful game soccer instead. A country that doesn't recognise Harry Kewell when he walks down the street. A country that have a dozen talk shows about Aussie rules football (it's rugby, basically).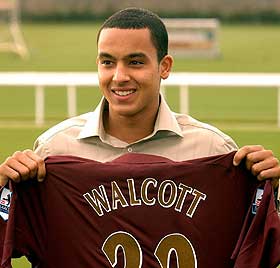 So imagine my delight when while surfing the channels I saw "Live" coverage of the EPL! All 3 matches, including my beloved Arsenal's were screened that night. I immediately dashed out into the chilly night to grab a 6-pack and chips to settle down to some REAL football. The rest of the Gooners
were at Liz, and most of them in their new Arsenal jersey too! Heng ah I brought mine along for the trip. I had goosebumps when the camera panned across the brand new Emirates Stadium, gotta visit it next time I head to London.
I could give a rundown of the matches, but I suspect Kev and Daniel are doing a good job at it so you might wanna read up at their site. All I can say is one word...THEO!
I
t's great that the EPL is back in season again. Now no need to headache where to go, what to do during weekends. Well stocked bar, some chips or chicken wings, projection TV to catch all the fast paced action and I'm all set for many Saturdays and Sundays.


I've never been happier seeing 22 men with 1 ball.


Wait, that didn't sound too right...