So Mickey and me decided to catch BornFire 2006 at the Waterfront@Esplanade
(Es-pler-nayd?) before the England match. I put my new digital camera to good use, picking up some helpful tips from
Wendy
. We then had to take a bus outta town (cuz most of them were hiding somewhere waiting for helpless people like us to book them) and hailed a cab to Changi Village to experience watching the World Cup in the heartlands.
The atmosphere was very relaxed there, with groups of fans (betting ones?) gathered around the 2 large projection TVs ordering food and drinks while waiting for the match to start. Even if one were to drink himself silly here, it's still better than blowing hard earned money at some upmarket pubs/clubs. Plus you get to go in shorts and slippers.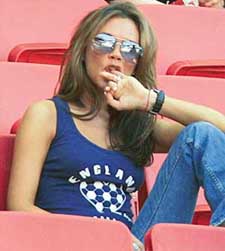 As expected, England didn't win too convincingly against Ecuador. Good 'ol Beckham, master-bender-of-balls, stepped up to score the only goal of the match. He then proceeded to puke on the pitch before being substituted. A funny incident happened when the goal went in. Whilst the crowd at the kopitiam cheered mildy when he scored, more wolf whistles were heard when the camera panned to Mrs Beckham jumping off her seat in celebration. I'm sure there are some who wished they replayed THAT shot over and over and over again...
The 2nd match was watched with much anticipation. After all, Portugal V Holland is a mouth watering encounter. What turned out in the end, however, made many see red ( namely Boulahrouz, van Bronckhorst, Costinha, and Deco) . To say that the referee kayu is but putting it mildly. I lost all repect for Luis Figo when I saw him headbutt Mark van Bommel behind the ref's back, then went on to wayang when he was elbowed in the face byBoulahrouz. If I were Heitinga, I'd have played the ball too regardless of sportsmanship. Basket, the ref thew that out already when he lost control of the match. Should've let our very own Shamsul Maidin officiate the match, he'd have been able to take the high temperature better and dealt with the fracas with a straight face. From Singapore one leh,
mai siao siao...