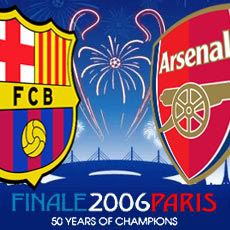 Counting down to the Champion League Finals. I never got so excited over a telecast of a football match before, not even during the World Cup. And no, I didn't put down any form of wager for the match, I don't believe in it.

I swapped my Taipei flight away just so I can be in Singapore with fellow
SG Gooners
to cheer Arsenal on.
The match will be shown on Thurs 2am. I'm keeping myself busy the whole of Wed, right up till around 11pm. That way I won't be fidgeting about thinking of the biggest game EVER for Arsenal.

I'm also getting anyone I know who likes Arsenal to come to Elizabeth Pub/Modestos to lend their voice and spirit to the team. I understand there'll be some media at the pub. Good, that way we can get the Official Arsenal Supporters Singapore formed faster with the extra publicity.


Yes, the jerseys will be on parade, scarves will be waved about, boisterous men will be singing songs only fans will understand. Hey it's Arsenal's turn in the spotlight, and I dare you to find any Barca fans that are as loud as us!!